A Unique + Dynamic Mixed Use Environment
As the first major new development opportunity in Santa Cruz in the last twenty years, this project offers a number of unique opportunities in commercial, industrial, and "work/live" flex uses.

This fully entitled development is zoned industrial with a commercial overlay, and includes a retail and residential component to round out the development.

The project fits the mold of the Santa Cruz lifestyle as a green project, recognized by its LEED neighborhood certification.
LEED Certification - Living Green
Delaware Addition has been certified as a LEED Neighborhood Pilot Project by the U.S. Green Building Council. We are among the first 25 projects in the United States to earn that award. Delaware Addition has helped set the new international standard for sustainable communities by conserving water and energy, mixing commercial and resident uses in higher-density configurations, locating next to existing communities and infrastructure, incorporating bike and pedestrian ways, providing amenities that make traditional car trips shorter or even unnecessary.

With LEED Neighborhood certification for the project as a whole, businesses that purchase lots and develop green buildings will have a head start toward their own LEED building certification.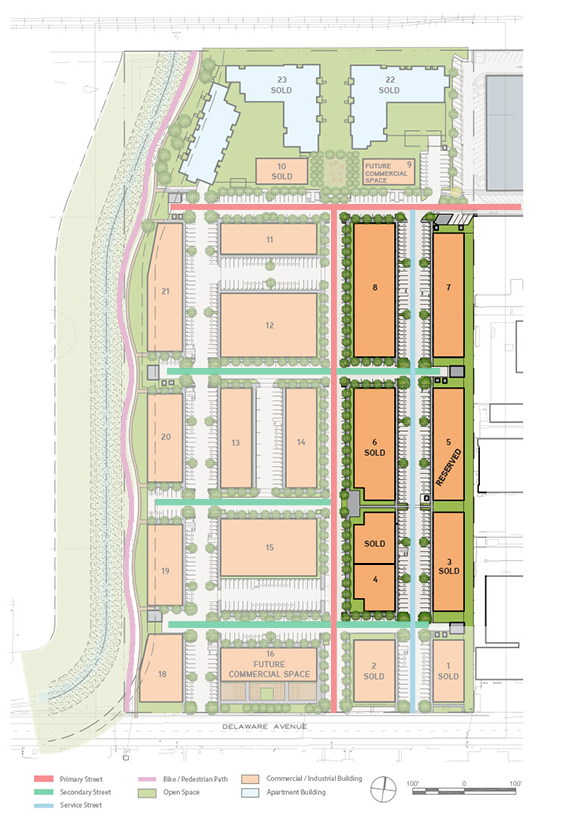 Master Development Plan fully entitled.
"Super Improved Lot(s)" are defined as parcels of land for sale where the Seller designs and constructs the "Common Area" improvements around the defined building envelope for that parcel's building.
A Delaware Addition Super Improved Lot includes the following completed scope of work:
Rough Grading and Compaction of Building Pad
Rough Grading, Paving and Striping of Streets
Curbs, Gutters and Sidewalks within Common Area
Site Lighting within Common Area
Landscape Planting and Irrigation within Common Area
Trash receptacles within Common Area
Utilities Stubbed near each Building pad (distance varies per lot)
Drainage Improvements
ATTENTION PROSPECTIVE BUYERS:
Each building pad is made up of two or more lots. Individual lots can be purchased or entire buildings pads can be purchased with rights to build per the entitled and approved uses.
Identify your desired use(s) and square footage needs

Identify desired site location(s)

Contact us to learn more about Delaware Addition's options!

PRICING
Contact us today for more information about our pricing structure.